China Top 10 LCD Display Manufacturers
In recent time, China domestic companies like BOE have overtaken LCD manufacturers from Korea and Japan. For the first three quarters of 2020, China LCD companies shipped 97.01 million square meters TFT LCD. And China's LCD display manufacturers expect to grab 70% global LCD panel shipments very soon.
Below are the top 10 LCD module manufacturers in China.
BOE started LCD manufacturing in 1994, and has grown into the largest LCD manufacturers in the world. Who has the 1st generation 10.5 TFT LCD production line. BOE's LCD products are widely used in areas like TV, monitor, mobile phone, laptop computer etc.
TianMa Microelectronics is a professional LCD and LCM manufacturer. The company owns generation 4.5 TFT LCD production lines, mainly focuses on making medium to small size LCD product. TianMa works on consult, design and manufacturing of LCD display. Its LCDs are used in medical, instrument, telecommunication and auto industries.
TCL CSOT (TCL China Star Optoelectronics Technology Co., Ltd), established in November, 2009. TCL has six LCD panel production lines commissioned, providing panels and modules for TV and mobile products. The products range from large, small & medium display panel and touch modules.
Everdisplay Optronics
Everdisplay Optronics (Shanghai) Co.,Ltd.(EDO) is a company dedicated to production of small-to-medium AMOLED display and research of next generation technology. The company currently has generation 4.5 OLED line.
Established in 1996, Topway is a high-tech enterprise specializing in the design and manufacturing of industrial LCD module.  Topway's TFT LCD displays are known worldwide for their flexible use, reliable quality and reliable support. More than 20 years expertise coupled with longevity of LCD modules make Topway a trustworthy partner for decades. CMRC (market research institution belonged to Statistics China before) named Topway one of the top 10 LCD manufactures in China.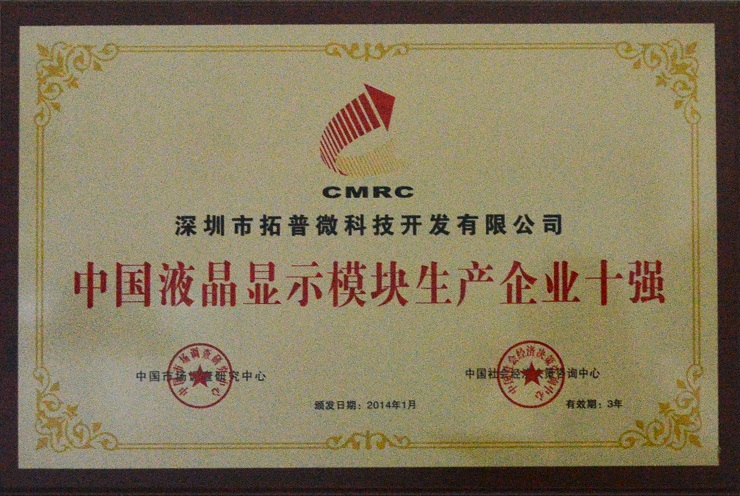 ​
K&D Technology
Founded in 2006, K&D Technology makes TFT-LCM, touch screen, finger print recognition and backlight. Its products are used in smart phone, tablet computer, laptop computer and so on. 
Eternal Material Technology
Established in 2013, Eternal Material Technology is committed to the research, development and manufacturing of electronic materials and providing technical services. EMT is leading the industry with its products of OLED and color photoresist materials.
 
Infovision Optoelectronics
The Company engages in the R&D, manufacturing, and sale of LCD panels. It offers LCD panels for notebook computers, desktop computer monitors, LCD TV sets, vehicle-mounted IPC, consumer electronics products, mobile devices, tablet PCs, desktop PCs, and industrial displays.
Olightek
Founded in 2008,Yunnan  OLiGHTEK Opto-Electronic Technology Co.,Ltd. dedicated themselves to developing high definition AMOLED (Active Matrix-Organic Light Emitting Diode) technology and micro-displays.
Heyuan COE
COE is working on small to medium size LCD. The LCD display is mainly used on smart phone and hand-held devices. 
In Topway, we work side by side to help you overcome any technical and none technical challenges that may arise during product design, manufacture or installation. We can even take care of component sourcing and manufacturing for you.