Connect Raspberry Pi with LCD Display
Topway TFT LCD display connects with Raspberry Pi 3B+, to form a small system with touch and connect to Internet through WiFi.
Hardware: 7" TFT LCD display LMT070DICFWD-NFA, Raspberry Pi 3B+
System: Raspbian GNU
Memory card: 16GB SD card
Connect Hardware
Connect Raspberry Pi and TFT display module as diagram below.
Connect LMT070DICFWD-NFA with Raspberry with HDMI cable
Use USB cable, connect Raspberry Pi to LCD display's RTP (resistive touch panel)
Hook up 5V and 12V power supplies with Raspberry Pi & LMT070DICFWD-NFA separately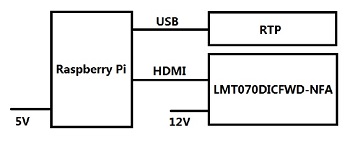 Install Operation System
Download Raspbian from Raspberry web site, https://www.raspberrypi.org
Format SD card, use Win32DiskImager write Raspbian system image to SD card
Insert SD card into Raspberry Pi card slot, turn on the device and install OS by following on-screen instructions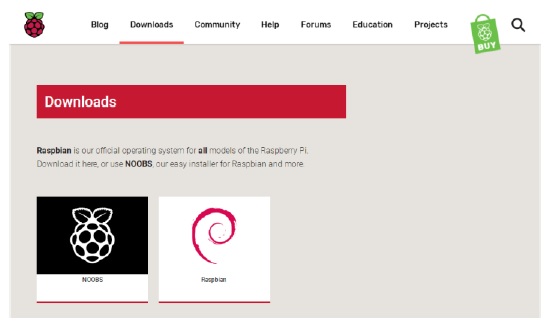 Setup Screen Resolution
Update Raspberry Pi configuration file with the best resolution 800x480.
Edit config.txt under Windows or use Raspbian's edit command, add following lines.
   disable_overscan=1
   overscan_left=16
   overscan_right=16
   overscan_top=16
   overscan_down=16
   framebuffer_width=800
   framebuffer_height=480
   hdmi_group=2
   hdmi_mode=87
   hdmi_cvt=800 480 60 6 0 0 0
Setup Network
Connect Raspberry Pi to Internet, through WiFi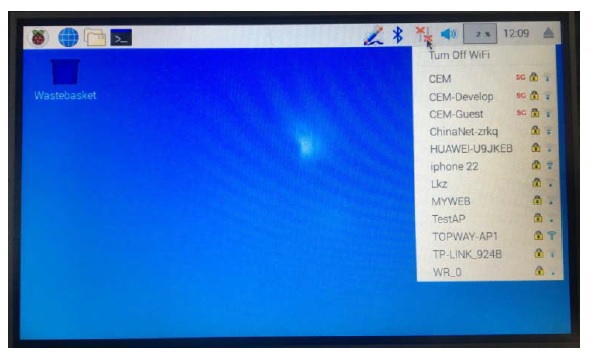 Install Touch Panel Driver
Download and install pmLinux-Raspbian_v4_5_8_R1_(Jessie)_20180131
Run PenMount Utility to calibrate touch screen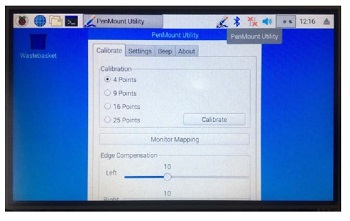 Install On-Screen Keyboard
Install SDK
   sudo apt-get install libfakekey-dev libpng-dev libxft-dev autoconf libtool -y
Compile & Install matchbox-keyboard
   git clone https://github.com/mwilliams03/matchbox-keyboard.git cd matchbox-keyboard ./autogen.sh
   make
   sudo make install
Install matchbox database
   sudo apt-get install libmatchbox1 -y

Create a new document
   sudo nano /usr/bin/toggle-matchbox-keyboard.sh
      #!/bin/bash
      #This script toggle the virtual keyboard
      PID=`pidof matchbox-keyboard`
      if [ ! -e $PID ]; then
        killall matchbox-keyboard
     else
       matchbox-keyboard&
     fi
Set proper execution permission
   sudo chmod +x /usr/bin/toggle-matchbox-keyboard.sh
Add an item in Start menu
   sudo nano /usr/share/applications/toggle-matchbox-keyboard.desktop
   [Desktop Entry]
   Name=Toggle Matchbox Keyboard
   Comment=Toggle Matchbox Keyboard
   Exec=toggle-matchbox-keyboard.sh
   Type=Application
   Icon=matchbox-keyboard.png
   Categories=Panel;Utility;MB
   X-MB-INPUT-MECHANSIM=True
Create an icon on task bar, open up LXDE setting
   nano ~/.config/lxpanel/LXDE-pi/panels/panel
     Plugin {
        type = launchbar
       Config {
          Button { id=toggle-matchbox-keyboard.desktop }
          Button { id=lxde-screenlock.desktop }
          Button { id=lxde-logout.desktop }
        }
     }
Bring up keyboard with this command: matchbox-keyboard
Adjust keyboard size with  -s option: matchbox-keyboard -s 50 extended