Capacitive Touch Screen Tuning And Tips
Fine-tuning capacitive touch panel (CTP) can be a delicate work.
Capacitive Touch uses tiny capacitance variance to detect user action. When user's finger gets close to CTP or touches the panel, the finger becomes dielectric and disturbs CTP capacitor's regular state. Touch sensing controller picks up the change and registers a touch command.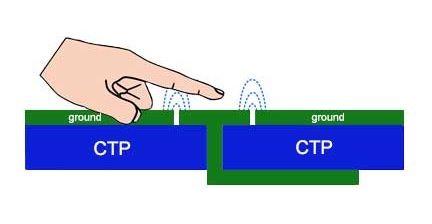 Tips and Best Practice on Tuning CTP
A lot of Topway's customers prefer CTP to be sensitive, so that user can get good touch experience without punching on the touch screen. However, a sensitive CTP is also sensitive to the surrounding noises or interferences. Followings are few causes why CTP is not functioning as expected.
Dirty power supply – when testing CTP product, don't just plug an adapter on wall outlet to supply LCD CTP power. This practice will produce noises and unstable voltage, causing CTP unpredictable behavior.
Testing CTP on metal surface – for some reason, the metal surface generated certain degree of capacitance. And this interferes with CTP. Increase gap between CTP and metal surface will help the situation.
Interference from main board – Topway can design a shielding ITO layer at the back of CTP. And we could shield FPC with coating or shielding tape.
Noises from outside – if the interference is from outside, we should incorporate space between product housing/bezel and Capacitive Touch Panel. When glass is used, at least 10mm is needed; if using plastic, it should be bigger than 3.5mm; if air gap is in-between, 1.5mm is minimum.
Conclusion
Every application has unique working environment, like different moisture levels and temperature. And those influence capacitive touch screen's touch performance. Topway has been producing touch screen LCD for many years. Our engineers helped customers overcome all kinds of CTP tuning challenges. Please leave us a message if you want to talk about capactive touch screen.