TFT LCD Module for EV Charger
Background
Electric car market is booming. There are more and more customers enquire about TFT LCD display for electric car charging station. As a leading LCD module manufacturer, Topway supplied our 1st batch of TFT LCD modules specially made for EV charger several years ago, installed on China State Grid's charging stations. The LCD screens are proven very successful, running for more than 3 years with zero problem.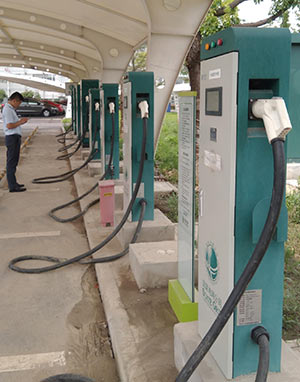 The Technical
LCD displays on EV charging station are custom made according to requirements like installation location, size, brightness, weather proof etc. They generally have following difference, when comparing with consumer or industrial LCD screen.
High brightness - most EV chargers are installed outdoor, TFT LCD screen needs to be a lot brighter than indoor used.
Low power consumption - high brightness usually means higher power consumption, EV charger screen needs to use high efficient LED backlight, to save energy and reduce heat.
Wide working temperature - outdoor temperature can be very cold and hot, charging process generates heat too. Therefore, the TFT LCD module needs to put up with a wide temperature range.
Weather proof - nature throws all kinds of weather conditions on to charger. The LCD screen needs to endure rain, dust, UV light and external impact.
High electromagnetic compatibility - charging work brings serious electromagnetic interference. TFT LCD module has to work normally in such environment.
New Product
Lately, Topway updated the EV charger product line, launched brand new models to support our customers. The new 7" TFT LCD modules are specially made for EV charging market, supports both two guns and single gun charging.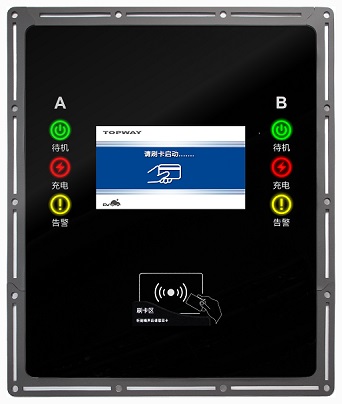 The new EV charger display module has gone through very rigid tests. And it will be used in our customers' new generation of electric car charging station. These are some of the criteria LMT070DICFWD-AKE achieved.
Qualified for UL-f1, suitable for outdoor use with respect to exposure to ultraviolet light, water exposure and immersion in accordance with UL 746C
Front panel achieves IP65 and IK08 rating
LCD screen brightness >= 900 cd per square meter; LED backlight lifespan >=50,000 hours
PWM, module includes a photosensitive circuit, which can adjust brightness automatically
Panel mounted, optical bonded capacitive touch screen ensures crystal clear display, yet won't be triggered by rain or water droplet
Strict EMC test according to GB/T 17626 standard, electrostaic discharge immunity test; electrical fast transient/burst immunity test; radiated, radio-frequency, electromagnetic field immunity test and GB 4824 radio-frequency disturbance test
You can find Topway's completed line of TFT LCD Module for EV charger here, or leave us a message in the site.