Build a digital scale display with smart TFT LCD
Background
The system we are going to build includes a data acquisition circuit with a host MCU and a HMT050ATA-2C smart LCD module as scale's display.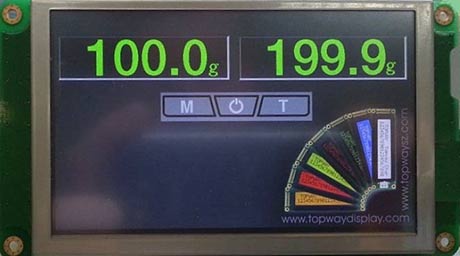 ​
HMT050ATA-2C is a smart LCD module with following specifications:
5 inch TFT Color LCD with 800 (RGB) x 480 pixels with 16 bits color per pixel and LED backlight
High-resolution resistive touch panel for user inputs and interactions
32 bits ARM Micro-Controller with a Smart LCD Engine to process graphics, commands from host
A large flash memory to hold graphical data and configuration information locally
A RS232 or a Logic-Level Serial Interface, connect the module to any host MCU or any other device supporting serial communication
A USB interface to configure the module
The HMT050ATA-2C provides a very easy and fast way to create high-end embedded applications for Industrial Controls, Instruments, and Medical devices. The TFT LCD module shows user interface, which can be created with Topway's UI development tool. A host MCU may connect to the module, control it and receive input events. 
Content
System Overview
A Digital scale is a very good example explaining the functionality and the way of developing applications with HMT050ATA-2C.
The proposed Digital Scale shall include:
Two Load Cells
ADC Board (e.g. based on AD7190) with SPI
Host MCU Board (e.g. based on a small ARM Cortex M0, PIC or AVR) with SPI and UART
Smart LCD Module HMT050CC-C with UART
Power Supply

ADC Board is providing following functionality:
Converting the bridge voltages of two load cell channels
A ratio-metric measurement circuit is recommended
The Host MCU is providing following functionality:
Setup and sampling of ADC values from the ADC Board
Calculating the actual weights from the ADC values
Transmitting the weight values as 32 Bit signed Values to the Smart LCD
Checking some variables inside the Smart LCD and adjusting Modes of operation accordingly
Recording Tare values in Tare Mode
The HMT050ATA-2C is providing following functionality
Displaying different pages of contents depends on the operation mode of Host MCU
Displaying weight values calculated inside the Host MCU
Setting internal variables depends on Touch Panel events
The Host MCU also connects to the Smart LCD via a asynchronous serial interface in the following format:
8 Bit
No Parity
1 Stop Bit.
Additionally, a flow control may be used by setting jumpers JP3 and JP4. Please refer to HMT050ATA-2C user manual for more details.
The Host MCU may use a baud rate of 9600 Bd or 115200 Bd. The baud rate can be selected on the
HMT050CC-C by using Jumpers JP1 and JP2:
JP1 shorted / JP2 open select 115200 Bd
JP2 shorted / JP1 open select 9600 Bd
The HMT050ATA-2C smart LCD module
Smart LCD module has the following parts and functions:
Contents and functionalities are organized in one (or more) page(s)
Page is a visual display on screen, contains:

Images
Icons
Variables (VP)
Animations
Time and Date using internal Real Time Clock

Page can hold multiple touch sensitive areas, which may trigger events like:

Transition to another page
Showing specific icons
Setting variable value or performing calculation
Sending touch event via serial interface
Sounding internal buzzer

Page may initialize variable (VP)
User interaction or serial interface command can control smart lcd module transition from showing one page to another one
The module includes a memory space, able to store global variables(VP), such as:

Numeric value
String
Graph
Bitmaps

Through serial interface user can do:

Switching between pages
Text output
Graphic operations like drawing line, rectangle and fill
Reading and writing of variable
Reading current page id
Reading and updating internal real time clock
Receiving touch event
Setting backlight and buzzer

Save values to internal flash storage
Development Plan
Define scale's possible operation modes and functions
Design a Data Acquisition Board with ADC and SPI interface (e.g. refer to AD7190 datasheet)
Create a simple Host Interface Board with SPI connecting to the data acquisition board, and a serial
interface that can be used to communicate with HMT050ATA-2C
Create a design project with multiple pages using Topway UI Editor - RG Tools, which can create Graphical User Interface
and set internal variables (VP) to respond to user's interactions
Create communication software for the Host Board, which can sample ADC data, calculate weight and access the internal variables (VP) of HMT050ATA-2C
Continue reading this application note for the whole project.